Scene 1 | Betty's Bright Idea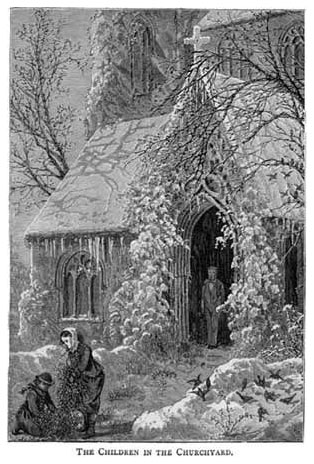 A young girl's boudoir in one of our American palaces of luxury, built after the choicest fancy of the architect, and furnished in all the latest devices of household decoration. Pictures, statuettes, and every form of bijouterie make the room a miracle of beauty, and the little princess of all sits in an easy chair before the fire, and thus revolves with herself:
"O, dear me! Christmas is a bore! Such a rush and crush in the streets, such a jam in the shops, and then such a fuss thinking up presents for everybody! All for nothing, too; for nobody Wants anything. I'm sure I don't. I'm surfeited now with pictures and jewelry, and bon-bon boxes, and little china dogs and cats—and all these things that get so thick you can't move without upsetting some of them. There's papa, he don't want anything. He never uses any of my Christmas presents when I get them; and mamma, she has every earthly thing I can think of, and said the other day she did hope nobody'd give her any more worsted work! Then Aunt Maria and Uncle John, they don't want the things I give them; they have more than they know what to do with, now. All the boys say they don't want any more cigar cases or slippers, or smoking caps. Oh, dear!"
Here the Shining Ones came and stood over the little lady, and looked down on her with faces of pity, which seemed blent with a serene and half-amused indulgence. It was a heavenly amusement, such as that with which mothers listen to the foolish-wise prattle of children just learning to talk.
As the grave, sweet eyes rested tenderly on her, the girl somehow grew graver, leaned back in her chair, and sighed a little.
"I wish I knew how to be better!" she said to herself. "I remember last Sunday's text, 'It is more blessed to give than to receive.' That must mean something! Well, isn't there something, too, in the Bible about not giving to your rich neighbors that can give again, but giving to the poor that cannot recompense you? I don't know any poor people. Papa says there are very few deserving poor people. Well, for the matter of that, there aren't many deserving rich people. I, for example, how much do I deserve to have all these nice things? I'm no better than the poor shop-girls that go trudging by in the cold at six o'clock in the morning—ugh! it makes me shiver to think of it. I know if I had to do that I shouldn't be good at all. Well, I'd like to give to poor people, if I knew any."
At this moment the door opened and the maid entered.
"Betty, do you know any poor people I ought to get things for, this Christmas?"
"Poor folks is always plenty, miss," said Betty.
"O yes, of course, beggars; but I mean people that I could do something for besides just give cold victuals or money. I don't know where to hunt them up, and should be afraid to go if I did. O dear! it's no use. I'll give it up."
"Why, Miss Florence, that 'ud be too bad, afther bein' that good in yer heart, to let the poor folks alone for fear of goin' to them. But ye needn't do that, for, now I think of it, there's John Morley's wife."
"What, the gardener father turned off for drinking?"
"The same, miss. Poor boy, he's not so bad, and he's got a wife and two as pretty children as ever you see."
"I always liked John," said the young lady. "But papa is so strict about some things! He says he never will keep a man a day if he finds out that he drinks."
She was quite silent for a minute, and then broke out:
"I don't care; it's a good idea! I say, Betty, do you know where John's wife lives?"
"Yes, miss, I've been there often."
"Well, then, this afternoon I'll go with you and see if I can do anything for them."