Hans Christian Andersen (1805-1875)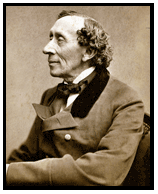 Hans Christian Andersen is often referred to by his initials H. C. Andersen. He was a Danish author, fairy tale writer, and poet known for his children's stories. Some of his famous fairy tales include "The Steadfast Tin Soldier," "The Snow Queen," "The Little Mermaid," "Thumbelina," "The Little Match Girl," and "The Ugly Duckling."
During his lifetime he was acclaimed for having delighted children worldwide, and was feted by royalty. His poetry and stories have been translated into more than 150 languages. They have inspired motion pictures, plays, ballets, and animated films.
Today, his stories remain popular and are widely read. Additionally, "The Emperor's New Clothes" and "The Ugly Duckling" have both become well-known expressions for what they originally represented in Andersen's stories.