Mary Shelley (1797-1851)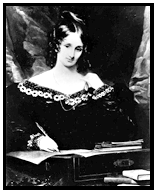 Mary Shelley was a British novelist, short story writer, dramatist, essayist, biographer, and travel writer, best known for her Gothic novel Frankenstein: or, The Modern Prometheus (1818). She also edited and promoted the works of her husband, the Romantic poet and philosopher Percy Bysshe Shelley. Her father was the political philosopher William Godwin, and her mother was the philosopher and feminist Mary Wollstonecraft.
In May 1816, Mary Godwin, Percy Shelley, and their son travelled to Geneva with Claire Clairmont. They planned to spend the summer with the poet Lord Byron. Sitting around a log fire at Byron's villa one night, they amused themselves by reading German ghost stories, prompting Byron to suggest they each write their own supernatural tale. Shortly afterwards, in a waking dream, Mary Shelley conceived the idea for Frankenstein.
She began writing what she assumed would be a short story. With her husband's encouragement, she expanded the tale into her first novel, Frankenstein and it was published in 1818. She later described that summer in Switzerland as the moment "when I first stepped out from childhood into life."