Bram Stoker (1847-1912)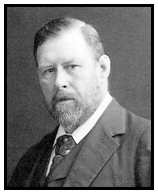 Bram Stoker was an Irish novelist and short story writer, best known today for his horror novel Dracula.
Before writing Dracula, Stoker spent several years researching European folklore and stories of vampires. Dracula is an epistolary novel, written as collection of diary entries, telegrams, and letters from the characters, as well as fictional clippings from the Whitby and London newspapers. Stoker's inspirations for the story included a visit to Slains Castle in Aberdeenshire, and a visit to the crypts of St. Michan's Church in Dublin.
During his lifetime, Bram Stoker was better known as the personal assistant of actor Henry Irving and business manager of the Lyceum Theatre in London, which Irving owned.