Mark Twain (1835-1910)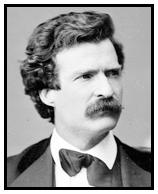 Samuel Langhorne Clemens is better known by the pen name Mark Twain. He was an American author and humorist and is most noted for his novels The Adventures of Huckleberry Finn and The Adventures of Tom Sawyer.
Twain used different pen names before deciding on "Mark Twain". He signed humorous and imaginative sketches "Josh" until 1863. Additionally, he used the pen name "Thomas Jefferson Snodgrass" for a series of humorous letters.
Mark Twain enjoyed immense public popularity. His keen wit and incisive satire earned him praise from both critics and peers. American author William Faulkner called Twain "the father of American literature."